At this time of year, most of us look back before we move forward. I like to prepare for the new year by doing the following:
1) Asking questions, such as:
What went well in my freelancing life?
What do I have control over that I could improve?
How do my revenues and time spent compare to previous years, and where is most of my revenue coming from?
What changes occurred with my client base?
How can I grow my business next year?
2) Going through my physical and virtual filing cabinets, removing/shredding/recycling documents I no longer need. This morning I painstakingly created a new template for my acting resume, which over the years has become such a mishmosh of styles that it was difficult to edit and update.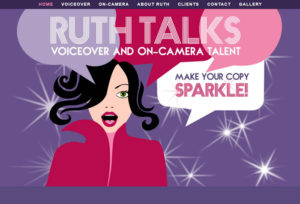 3) Reviewing the tools of my trade. To improve my home recording setup, I just bought new, comfy headphones and more soundproofing. Not long ago, I updated my acting and voiceover site,
www.ruthtalks.com
. New headshots are next.
[Read more…] about New Year's Resolutions of the Gainfully Unemployed