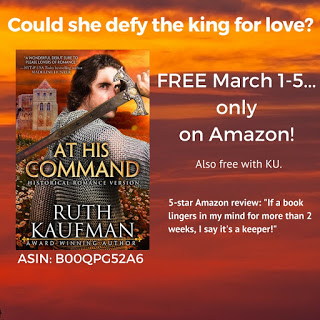 AT HIS COMMAND is free on Amazon March 1 to 5!
I've read many posts about making a book free for a brief time or permafree. While it's hard to give away a product I spent countless hours producing, I'm hoping the benefits are worth it:
1) Readers may get to know an author and buy her other books. (Or will they wait to see if those are free, too?)
2) If the book is also in Kindle Unlimited, and subscribers read it, you get paid for those pages.
3) If you get enough downloads, the book climbs Amazon bestseller lists including Top Free Historical Romance, which leads to more visibility and perhaps more sales of other books.
4) You might get more reviews. The more reviews a book has on Amazon, the better the opportunities for Amazon promotion, such as "also bought" and "you might like."
But making "going free" work can require a significant investment of:
1) Time: to scour promotion sites, choose some, and apply for a listing by filling out their forms. Posting on Facebook groups and other social media. Spent away from writing/getting your next book out or other work. Checking and compiling results.
2) Money: for said promotions. I got my first BookBub for 3/2, quite an achievement. (I was denied for two books when I had .99 cent countdown deals.) Though it costs hundreds of dollars, the high number of downloads and visibility are said to be amazing. I hope so!
It's working! AHC is already #38 on Top Free Medievals.