As previously mentioned, I am usually quite the Scrinch (Scrooge and Grinch) around the holidays….IMO there's too much fuss and preparation for only a few minutes of eating and unwrapping.
But this year, I spent more than 160 hours immersed in holiday cheer. I worked at Navy Pier's Winter WonderFest in the midst of 750,000 ornaments, hundreds of Christmas trees, dozens of hanging and illuminated snowflakes and inundated by (somewhat repetitive, considering the plethora of options available) Christmas music and the ever-present smells of funnel cakes and cinnamon coated nuts.
The thousands of patrons ranged from babies (the youngest I met was born on Christmas Eve!), to school groups, families, couples and senior citizen groups. My job as Major Nougat of the Candy Corps was to improv with my partner Colonel Caramel and the other Winter WonderFriends and entertain everyone we came across.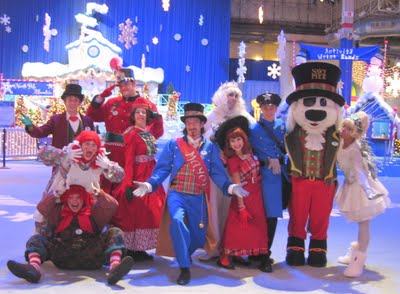 In addition to posing for hundreds of pictures and signing autographs, activities included: having bunches of kids march with us and help us create new, silly ways to march, serving as an attorney in Bah Humbug Court defending those ticketed by the Winter WonderForce for infractions such as insufficient holiday attire or Scrooge-like behavior, holding imaginary tea parties, telling and acting out stories made up on the spot, collecting high fives and holding dance parties when certain songs played. Several times we had the honor of escorting Santa Claus around the fest. Each day brought new opportunities, games to play and ways to make people laugh.
One of my favorite things was to infiltrate family photos. Whenever we'd see a family posing (usually in front of one of the many Christmas trees), my partner and I would literally run over and get in the picture. The photographer, staring at the camera, would see us appear in the viewfinder. Watching his/her expresison change from intent concentration to suprise to joy never got old. He or she would either burst out laughing or say "yes," or "wait," in order to refocus. One woman was so tickled by this she kept laughing and saying, "I'm just filled with joy."
Most kids were excited to see us. They'd come running over to talk, play, take a picture or even give me a hug. But a few were frightened or shy, and hid behind their parents. So we developed games to draw these kids out. If we didn't get them to take a picture, usually we at least got a high five.
Every time I made someone laugh, every time I saw a kid's eyes widen with wonder and joy, whenever a little girl or boy gave me a hug or sat on my lap, I confess I felt the holiday spirit.