Goodreads
Book Giveaway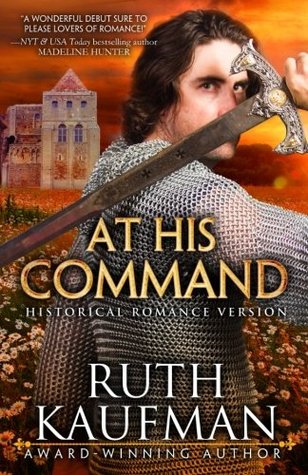 At His Command by Ruth Kaufman
If you're new to Gainfully Unemployed, that's not a typo. I call myself a feelancer instead of a freelancer, because I rarely work for free.
Keeping all the plates spinning means wearing a lot of hats (cliches, but true). This week I've worn these hats in addition to bopping in and out of social media, promoting my Goodreads giveaway (link to enter is above), and following various online indie author groups (I've learned a lot, but there's always more to learn and things change so rapidly):
Monday:
Speaker: A romance writing group asked me to do an online workshop, so I sent some pitches. Submitted to an improv show that starts with a guest speaker.
VO talent: Commercial booking at a recording studio. Found out I'd be doing two commercials when they gave me the scripts.
Author: finished reviewing my next book and sent it to my editor.
On-camera talent: submitted for an indie feature and student film. Got an audition for the student film on Saturday (need to review my monologue).
Theatre: had the lead role in a reading of a new play.
Tuesday:
VO: submitted audition I'd recorded at home
Author: wrote back cover blurb and tag for new book. Submitted 1st book for a review.
Colleague: searched possible audio books for a friend to narrate.
Designer: Worked on website redesign…reviewed other author sites, searched for images.
PR: decided to do my first Facebook post boost.
On-camera: went to casting agency for a national commercial audition.
Wednesday:
Business: signed NDA for upcoming VO role in a military video game. Learned I'd have many more lines I'd thought.
VO & on-camera: sent a couple of VO auditions, submitted for an on-camera project
Designer: more image searching. Having difficulty finding what I see in my head despite searching a bunch of stock photo sites (which could use better search engines, IMO…too many things come up that aren't related to my search terms).
Author: asked two best-selling authors if they'd give a cover quote for #2. Both said yes. 🙂
Singer: chorus rehearsal for 2 concerts of Rodgers & Hammerstein songs.
Plan for today:
Designer: Review and respond to the long email my cover designer sent with different options for my next book. Continue site redesign and review all pages of current site for updating.
Colleague: work with a friend so we both stay on track and get more done. It can be easy to get distracted/spend too much time online. And when there are so many tasks in different areas, prioritizing can be a challenge.
PR: review FB boost results.
VO: review video game scripts and estimate delivery time.
Stay warm: current temp is -6, windchill -22