For the first time since fleeing corporate America to be Gainfully Unemployed, I went on vacation…to San Juan, Puerto Rico!
Here's the view from my hotel room in Isla Verde: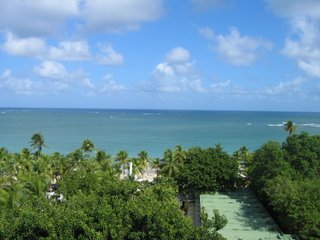 The many benefits of taking a vacation include:
1) R&R. Slowing down the pace of everyday living, letting some stress go, by reading under a cabana by a beautifully landscaped pool (and sipping the occasional frozen drink). Walking on the beach through the surf in the morning and at night. Not being on a schedule…no "I shoulds" or "I have tos." Turning your (carefully sunscreened with a high SPF) face up to the sun in a cloudless blue sky.
2) Expanding your horizons. Learning about our world is fascinating, but most of us don't make the time. Do YOU know where Puerto Rico is? I am admittedly geographically challenged. Until I decided to go to PR, I only knew it was south of Florida, but not its actual location (south east of Cuba, about a 4 1/2hour flight) or its place in US history. More on that next week.
3) Wining and dining. On vactaiaon, you have time to savor leisurely meals, partake in and learn about local cuisine, research popular and out of the way spots. Both of us really liked mufungo, which is mashed plantains mixed with meat or seafood…two we tried with red snapper were particularly tasty, one at the upscale Aguaviva and the other at Mi Casita, in a small strip mall next to a Baskin Robbins near our hotel, recommended to us by a cab driver.
4) Communing with Nature.
Big city residents don't often get to immerse themselves in natural beauty. So we appreciated a half day tour to El Yunque rainforest in the mountains, with waterfalls and winding, precarious paths.
The minor downsides of vacationing:
1) Missed Opportunities. As discussed in an earlier post, freelancers can lose opportunities for work if they go out of town. Sure enough, I couldn't go on an audition for a bank commercial that filmed out of town. I was able to reschedule an audition for a play (they asked me to audition, so maybe that helped) and salvage an emergency VO recording by doing it the minute I got home, at 9PM). The friend I went with missed out on the chance to do a fast food VO audition and to participate in a backer's audition for a new musical.
2) Is there such a thing as too much time? Those of us accustomed to running around saying, "I have to do this, that and the other thing," may be surprised by how many hours there are in a day when you don't do any work, chores or errands at all. Settling into vacation mode and accepting that you deserve time off takes a mental adjustment.