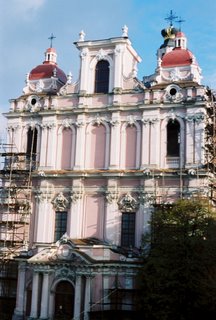 Yes. I now know who made it to the next round of the American Title II contest. But they asked us not to post the news until 12/19 when the next round of voting begins at romantictimes.com.
For anyone awaiting reports about my Vilnius/Highlander:The Source journey, I've submitted my journal and some pictures for the movie web site. As soon as I know when they'll post, I'll post.
Rehearsals for the CBA's musical revue are in full swing…until 9:30 last night working on a great parody version of Michael Jackson's "Beat It". Tho much work on the dance steps is still needed.
Another Vilnius picture…