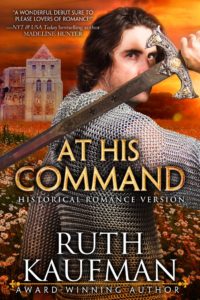 I'm honored to announce that
AT HIS COMMAND 
 won BOTH the Best Historical and Best First Book 2016 Booksellers' Best Awards.
And this week a reader wrote, "I started reading 'At His Command' and didn't stop until I was 20% in. Wow, what a wonderful story!!! I was actually angry at the clock for passing so quickly.  I can't wait to return to it but wanted you to know I LOVE it so far!!"
Yet despite such wonderful accolades and praise, and though I've (temporarily?) reduced the price to .99, I'll share that sales have dwindled to a trickle.
How do I keep AHC visible so readers can discover it amidst the 42.986 historical romances in the Kindle store as of this writing?
I follow several online book marketing groups, where the main takeaway is that what works for one author may not work for another. The others are to write more great books–some say it takes at least five or six–and be patient. I've released four medievals in a year and a half, and have a novella coming in September. I have completed manuscripts in other genres, and over a third of the second book in what I hoped would be my Unsung Knights of the Round Table series. Do I finish that or release something else, which may interest more or fewer readers?
And how does an author keep going if she's not just doing it for the joy of writing or saying she's a published…spending time writing, revising, getting books ready for release, promoting current releases and paying for covers, editors, promotion, bookmarks? When is someone being patient and persistent, and when is someone beating her head against a brick wall?