Hello! Thank you for stopping by my blog as you follow A Royal Christmas 12 Author Hop. I hope you're enjoying your journey.

I've released four medievals and a medieval novella, and over the years have collected hundreds of books about 15th century England. My favorites (such as Private Life in the Fifteenth Century and the medieval craftsmen series offer fascinating details about castles, knights and and life during that time period, which I love learning about. Something else I love is when sources say, "No one knows what happened," because I think it's fun to combine actual history with imagination. 

What do you love about historicals and why?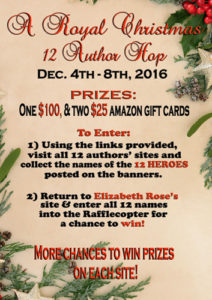 Comment below to enter to win one of three copies of Nicholsa's story, my first book, At His Command, 2016 Booksellers' Best Award Best Historical and Best First Book winner, which is also on sale for .99.

Lady Amice Winfield doesn't know how she can fulfill her duty to marry the king's choice because she's falling for Sir Nicholas Gray, the knight sent to protect her from undesirable suitors. But serving opposing factions seeking to govern England threatens to pull them apart. Could she defy her king for love?  

I hope you'll sign up for my newsletter, and join me online on Facebook at Ruth Kaufman Author & Actress, @RuthKaufman on Twitter and Goodreads.  If you're interested, all of my books and sets are on my Amazon author page.
Elizabeth Rose created this great video:
Here are links to the other authors participating in the hop: