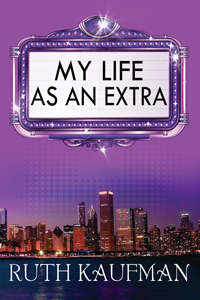 I'm excited to share a sample from the upcoming audiobook of my humorous novel, MY LIFE AS AN EXTRA, in which Marla Goldberg yearns to believe "someday is now" after an unexpected divorce and pursue her dream of being a working actress in Chicago. But how can she quit her frustrating but secure radio station account executive job when she's only booking work as an extra? When she dips her toes into the daunting dating pool, her first "date" wants to meet in a pet store parking lot. Other forays yield equally unfortunate results. Dealing with overachiever siblings and judgmental parents, she struggles to learn the hardest lesson of all: how to feel special when you're not the star.
I had a wonderful time creating this audiobook. The process was costly and time-consuming process despite working with a great team: Kevin Theis, actor and audiobook narrator who voiced the male characters, and actor and voiceover coach/demo producer Darren Stephens, who served as audiobook engineer and co-director.
It took 22 visits to and 38.75 hours in Darren's studio (including one session to test our process). I'd gone through the book and marked where all of Kevin's scenes started and stopped. He joined us four times so we could record our scenes together instead of having to edit in all of his dialogue. Darren and I recorded my narration and compiled the chapter components. Then I spent more hours than I chose to count (I stopped after 19) editing the audio…taking out loud breaths and clicks and tightening or lengthening pauses. A few retakes were required for some chapters, with more compiling and editing. Finally, I  sent each chapter back to Darren to master.
Kevin made me laugh out loud while we were recording, and also while editing, even though I knew what was coming. I hope you enjoy this sample and the entire audiobook.