I'm excited about the upcoming release of my first contemporary, My Life as an Extra,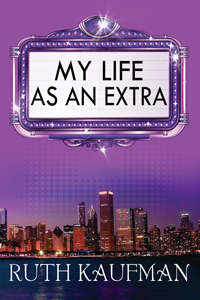 a humorous women's fiction novel in which Chicagoan Marla Goldberg learns to feel special despite a divorce, working as a movie extra, dipping her toes into the discouraging dating pool, being unappreciated in her day job and dealing with her successful siblings.
I had a wonderful time writing this and the sequel, My Life as a Star, and Marla made LOL many times. But preparing to release these books presented several challenges that my other books didn't.
Contemporary: When researching and writing my medievals, I pored over many sources, doing my best to provide historical accuracy. Yet I was happy when those sources said, "No one knows X or Y," leaving me free to make certain things up to fit the story. And a "new" invention would stay new in the 1450s, but something trending on social media today, the hottest cell phone features or #1 pop star may seem out of date or be has-been within months when frozen on the pages of a book. Even writing about current locations within Chicago took extra care because things change rapidly (Sears vs. Willis Tower, anyone?)
Not a romance: Amazon, reviewers, and advertising/promotion sites ask authors to classify their books, often literally by checking a box. MLE is not a romance, but could be mainstream with romantic elements or humorous women's fiction, or, by some definitions, chick lit. It's a challenge finding as many places that accept a slightly outside of the box category.
Wanting to use many real celebrities, films and pop culture references: I've worked as an extra in more than 70 movies and TV shows filmed in Chicago, so my path has crossed those of many A-list, household-name celebrities. Consulting with attorneys and researching our litigious society, even when the author is legally within his/her rights and ultimately prevails, made me leery. Making cuts was painful. Not only that, I didn't want to date the book with many actual movie titles. I also wanted to use a few song lyrics, but cut those because of the time and effort to track down and ask for permission from multiple rights holders, which may not be granted. To me, the downside of creating new films and changing stories means less instant recognition for readers and more of a challenge for me to convey the mood, tone, or whatever Marla wants to get across.
I'm awaiting my first reviews with bated breath…..