I've published assorted freelance articles, but I'm pleased to announce my first contribution to a book. It's "The Scrinch," a true, short story in the St. Martin's anthology,
The Spirit of Christmas
, foreword by Debbie Macomber, which releases October 25th.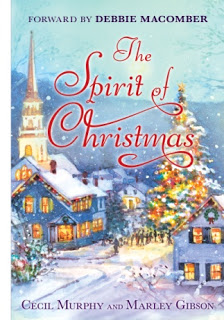 Here's the press release:
Publication date:
October 25, 2011
Contact: Jessica Preeg(646) 307-5568
THE SPIRIT OF CHRISTMAS (St. Martin's Press, October 25, 2011) is an inspiring collection of true stories from real-life people who have experienced such moments where the meaning of the season becomes undoubtedly clear. A man mailing gifts at the post office witnesses a moving scene that changes his life forever. An unhappy couple is drifting further apart…until a special Christmas gift allows them to renew their love and mend their fractured marriage. And a father tries to keep the spirit of Christmas alive for his son with a grand gesture–a gesture that will be remembered by his family and many others for years to come.
With a forward by bestselling author Debbie Macomber, who is widely considered the "Official Storyteller of Christmas," THE SPIRIT OF CHISTMAS is filled with magic, wonder and deep meaning. It's impossible for these stories not to touch your heart. I look forward to your coverage.
CECIL MURPHEY is the co-author of the New York Times bestseller, 90 MINUTES IN HEAVEN. He has published 108 books and lectures widely. MARLEY GIBSON has written several young adult novels for both Penguin Group and Houghton Mifflin. They have collaborated on a previous Christmas book for St. Martin's Press, CHRISTMAS MIRACLES.
TO REQUEST REVIEW COPIES AND/OR AN INTERVIEW WITH THE AUTHORS, PLEASE CONTACT:
Jessica Preeg, Publicity
T: 646-307-5568/ E: Jessica.Preeg@stmartins.com