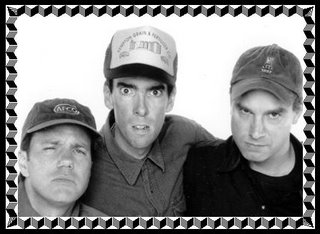 The Gainfully Unemployed need to take some time off from career pursuits every now and then. So I went to Three Oaks, Michigan, to hear friends who make up the three-part harmony group The Famous Brothers perform at the Acorn Theatre.
Darren 2B Famous, Willie B. Famous and Ricky Famous Famous hail from Monkey's Crevice, West Virginia. They sing original and cover bluegrass songs in the vein of music from the movie O Brother, Where Art Thou and share brotherly banter. They're known for their clever lyrics and harmonious blend, which thoroughly entertained the crowd at the Acorn.
Check out The Famous Brothers on Fox 28 in Elkhart performing one of my favorites, 20 Ways to Kill You with my Swiss Army Knife or watch an older performance on YouTube here.
You can order their songs and CD on Amazon.com. Listen to samples, including one from another favorite, "Yodel in the Valley," here.
If you're visiting the Harbor Country area, consider seeing a show at the Acorn Theatre. It's a unique venue offering a wide variety of entertainment in an eclectic setting, which includes a full bar and one of the nicest women's restrooms I've seen in a theatre. The quaint, quiet Three Oaks and surrounding towns are fun to explore, and offer many dining options, including Middle Eastern fare Cafe Gulistan and Swedish breakfast at Luisa's Cafe.