It's been awhile…in part because I've been hard at work on the audiobook for My Life as an Extra! I'm excited to report that it's more than halfway done.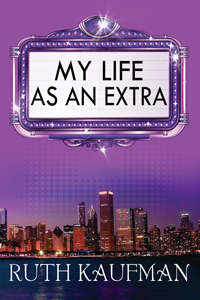 And I'm also working on the MLE sequel, My Life as a Star.
I'm so grateful for the great Amazon reviews MLE has received, such as, "I laughed, I cried, and I highlighted a lot of passages that deserve a little more thought pertaining to my own life! Highly recommend this book for your summer reading list–you won't be disappointed," and "…most of My Life as an Extra cracked me up. Choking hazard! Eat first and carve out some time for reading."
MLE is written in first person, so I'm voicing  the main character and all of the female roles. I didn't want to do the male characters, so I hired actor, audiobook narrator, director and friend Kevin Theis (middle) to do all of them. We're reading the dialogue together instead of alternating chapters. And Darren Stephens (left), actor, voiceover talent and demo producer, is co-director and audio engineer. Kevin did such a great job bringing my characters to life that he made me laugh out loud during recording and miss some cues. And I laughed again while editing. I hope listeners will enjoy how we're bringing the book to life.
Do you like audiobooks? If so, do you prefer one or more narrators, and why?