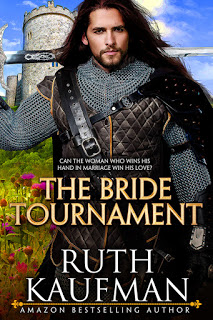 The Bride Tournament, my standalone third novel, releases today!
RT Book Reviews says, "The third book in the Wars of the Roses Brides series is an intriguing and enjoyable story. Kaufman writes well-developed and sympathetic characters with clear motivations. The Bride Tournament is a page-turner of a historical romance that will have readers rooting for a happy ending."
And I love RT's summary: "On the day of her wedding, Lady Eleanor de la Tour gets the surprise of her life: King Edward has disallowed her from marrying her beloved Arthur, and instead she is expected to marry Richard Courtenay, the new Earl of Glasmere. Because she still loves Arthur, she decides to hold a bride tournament to find another woman who is a better match for Richard. However, the more Richard appears to accept her plan the more Eleanor starts to believe she's made a mistake — despite Richard's quest to practice alchemy and the affect it could have on her family. Will these two ever find peace with one another?"

How I got the idea for this book: The opening scene popped into my head. Then I thought, "What if the heroine did something to make sure the groom she was told to marry had a better bride, so she could marry her betrothed?"

Learning about medieval tournaments was a lot of fun. I also enjoyed researching alchemy, the process of turning base metals into gold or perhaps leading to the fountain of youth or other results, depending on which source you follow.

I hope readers love this story and the Eleanor and Richard's journey….