HLL features two English and two Scottish medievals by bestselling authors.
AMBER by Elizabeth Rose
Can a pure dove change the morals of a devil or will he change her morals first?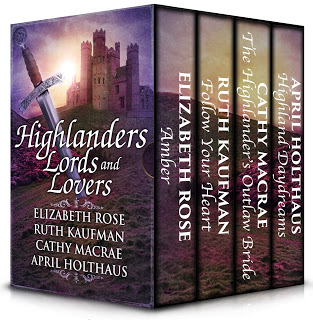 FOLLOW YOUR HEART by Ruth Kaufman
When irresistible attraction makes their marriage of convenience inconvenient, will his dangerous secrets keep them from following their hearts?
THE HIGHLANDER'S OUTLAW BRIDE by Cathy MacRae
Forced into a marriage neither wants, it will take a king's edict and sacrifice from both to discover what love means. But can they accept their losses and learn from their mistakes before Brianna marries another?
HIGHLAND DAYDREAMS by April Holthaus As they travel across land and sea, Lara and Bram discover a secret about her past that's worth its weight in gold. Will Bram be able to keep his promise to return her to her family, knowing he may lose her forever?
Do you like medievals? If so, do you have a time period and/or setting preference? If you don't like medievals, why not? If you haven't read any, perhaps you'll give these a try.