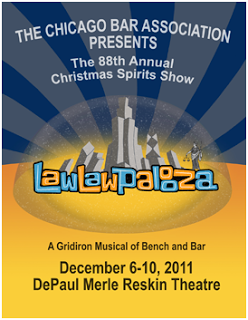 For many years I've performed in the Chicago Bar Association's annual Christmas Spirits musical revue, aka "the bar show," in which everyone on stage is a lawyer.
This year's show, LawLawPalooza, parodies a wide range of famous people, from Rod Blagojevich arriving at prison to Lady Gaga to Kate and Pippa Middleton, and issues such as the state of the economy, all sung and danced to tunes including "Footloose," "Bohemian Rhapsody," and "I Believe," from the Tony Award winning Book of Mormon.
LawLawPalooza is at DePaul's Merle Reskin Theatre. Some of us have some very quick costume changes and dressing rooms on the 4th or 5th floors (There's no elevator. I'm on the 5th floor, 56 stairs), so backstage is often a flurry of performers preparing for upcoming numbers. I have only a short song to return a microphone and change from a sequined skirt and top, jacket and boots into a policeman outfit. Another cast member helps with my shoes.
ChicagoCritic.com recommended the production, here. We offered a Groupon (I'm to the left of the guy in the hat). Some tickets are still available December 8 through 10 at http://www.barshow.org/, which also offers video clips from past shows.