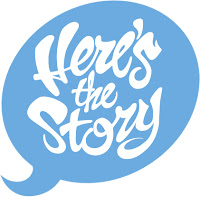 On Sunday, July 1st, I had the honor of being a featured storyteller at Here's the Story, at Stage 773 on Belmont.
HtS's mission is "to bring together Chicago's various creative communities, to connect with one another, to foster the art of telling and listening, to provide a platform of support for the work of known and developing storytellers, monologists, and solo performers."
The program opens with each audience member turning to someone he/she doesn't know and sharing a two minute story. Five featured tellers, who get 10 to 12 minutes, alternate with five walkups, who get five to six minutes each. The audience gets 50 points to vote on the walkups. Whoever gets the most points is invited back as a featured storyteller the next month.
I've given many workshops and performed at numerous venues. I was on National Appellate Team in law school (we came in second nationwide out of around 150 teams) and speech team in high school. So I assumed telling a story would be fairly easy.
Storytellers at some other local events read word for word from printed pages. But HtS prefers no pages. Not even notes. Preparing turned out to be more challenging than I'd expected.
My topic was "The Most Rejected Person in America," because as a writer and actress (who also collected many rejections during 15+ years in sales) on any given day I could be rejected by, among others, casting directors, editors, clients and/or producers. I wrote a synopsis of the things I wanted to cover, and felt attached to the written page. I didn't want to go out of order or miss a key point.
My friend Darren Stephens was also a featured teller. We got together the night before to rehearse and critique each other's stories. That proved very helpful, revealing things that needed clarification, and where to elaborate, add or make cuts. We still didn't feel quite ready, so we rehearsed and critiqued by phone on Sunday. And then again later in the afternoon…in addition to individual work. We smoothed out our tales, tied sections together with good transitions and developed an emotional ebb and flow intended to keep the many audience members on the edges of their seats.
The preparation paid off. Both of us (and other storytellers) got laughs–in the right places–and compliments afterward. Listen to the podcast, which will be available soon, to hear the final product.