I am a Scrinch–part Scrooge, part Grinch–someone who doesn't love the holidays. In part it's because of how the hustle-bustle of decorating, cookie making, gift buying and giving, party throwing and attending takes over everything else. I've already received emails and seen posts about offices closing until January 4. While those who are Gainfully Employed with paid holidays may appreciate all of the downtime and getting paid to take time off, as a feelancing Gainfully Unemployed, I see two weeks without auditions and paying work.
However, I am awaiting the final script for a small VO job, and I have what could be an exciting writing assignment–more on that later.
In part, I admit I feel pressure–to give great gifts and have a wonderful time. What are YOU doing for the holidays? New Year's Eve? Thankfully, I already have fun NYE plans. Whew.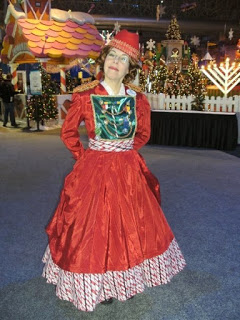 Several years ago I had a true story published in an anthology. My Scrinchiness abated in 2009 when I portrayed Major Nougat at Winter Wonderfest, a vast indoor holiday amusement park filled with amazing decorations. Interacting and improvising with kids and seeing their true wonder made me appreciate that season.
One thing I do like to do during the holidays is go through all of my drawers, cabinets and closets. Organizing and donating is one way to start the new year fresh with my best foot forward.
How do you feel about the holidays?