Note: If you seek holiday-themed reading, I'll be posting tomorrow about Christmas traditions in medieval England at http://www.seducedbyhistory.blogspot.com/.
Double casting: two actors play one role.
The first time I was double cast was in eighth grade…as Oliver in my junior high's musical, Oliver! Being very short with short hair, I was chosen to portray a boy. The other Oliver was an actual boy (whose older brother was single cast as the Artful Dodger). I'm not sure if the school was trying to give more students the opportunity to participate or thought the role was too large for one student to perform at every performance. But after all the rehearsals, after learning all of the lines, songs, choreography and blocking, I would have liked do to more performances.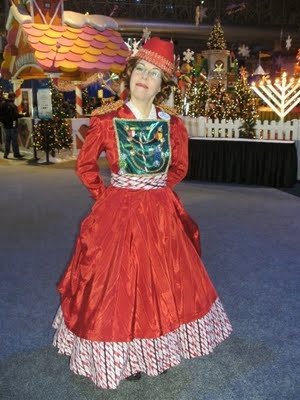 I'm currently double cast as Major Nougat at Navy Pier's
Winter WonderFest
. Think: Disney characters on steroids. With 11 others (in particular Colonel Caramel), I pose for pictures and sign autographs, but also traverse the 170,000 square feet of the Fest and improv scenes with patrons and other Winter WonderFriends. We gather in the center and have a dance party whenever a certain Mariah Carey song plays. We attend sessions of Bah Humbug Court, where we defend patrons who have been ticketed by our holiday cops for infractions like Scrooge-like behavior, beleagured picture-taking, insufficient holiday attire and impersonating Santa. Yesterday, Holly the Rag Doll tried to avoid her sentence to Jolly Jail and ran out of court, so I had to chase her all over. Being a ranking officer of the Candy Corps, I also encourage patrons to salute and engage in various marching exercises.
Because this is such a physically and vocally demanding role (according to my pedometer, I walk around six miles a shift), and because WWF is often open 10 or 12 hours a day, double casting makes complete sense. Yet it's odd to see the other major in 'my' costume (she told me she thinks so, too), and to feel like I'm missing out on the fun when I hear what happened days I'm not there. And yesterday in the hall outside the dressing rooms, a cast member called me by the other major's name. Hmm. Both casts rehearsed together so we could develop similar physicalities and ensure understanding of our characters. But each of us bring different things to the table, and it's fun to work with a mix of the casts each shift.
Other issues: when single cast, if you have the opportunity to do an on camera job or want to go out of town, you probably have to say no. When double cast, you might be able to trade shifts. It's sometimes challenging to get family, friends and talent agents to attend productions you're in. But when double cast with an irregular schedule, it can be more challenging to mesh your schedule with theirs.
As a patron, double casting means you have a decision to make. For example, at the
Lyric Opera of Chicago
, this season's Tosca is portrayed by the very well-known Deborah Voigt and also by Violeta Urmana, who is making her Lyric debut. So if you'd rather see DV but your tickets happen to be for a VU performance, you'll have to hope you can exchange. On the other hand, seeing fabulous performers new to you can be exciting. (I still remember the first time I saw Jose Carreras at the Royal Opera House in
Il Trovatore
at Covent Garden…)
Happy Holidays!