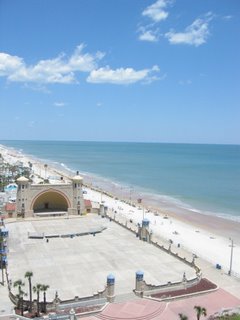 I recently returned from the Romantic Times Booklovers Convention in Daytona Beach, where the official announcement was made of the winner of American Title II. Unfortunately, it's not my novel, FOLLOW YOUR HEART. Close but no cigar.
But I still had a great time. Check out the ocean view from my room! I had breakfast with 6 other AT II finalists and last year's winner for JANE MILLIONAIRE, Janice Lynn, and two editors and the publisher of RT. I lunched with Dorchester's direct marketing manager. I met with Borders/Waldenbooks romance buyer, caught up with and received sympathetic hugs from numerous friends, brought home a bunch of free books and was invited on stage during the awards lunch with the other finalists to say our names and book titles and share the moment with winner Gerri Russell.
The good news: Dorchester is still considering FYH.
And we AT II finalists now have a blog: titlewave.blogspot.com, where we'll post news of our paths to publication now that the contest is over.
Huge thanks to everyone who voted for FYH.