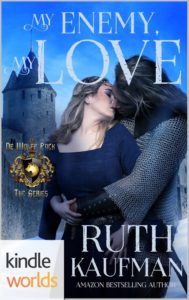 I'm excited to announce that my novella My Enemy, My Love is now available as part of Kathryn LeVeque's Kindle World, World of de Wolfe Pack!
Kathryn asked me to tell the story of her hero Sir William de Wolfe's best friend Paris de Norville's parents. Her book introducing Paris, The Wolfe, starts at the end of 1231 AD. So to make him the right age, my novella needed to be set around 1200 AD. I like to incorporate some real history, so I searched for events around that time. And chose King Philip II's 1203-4 siege of Chateau Gaillard.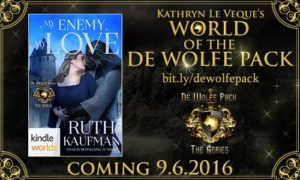 Philip Augustus wanted to evict the English from Normandy, and at the time, CG was their last holding. He sacked the nearby town, then placed the chateau under siege.
Some civilians were allowed to leave the chateau. But several hundred weren't. The chateau's commander wouldn't let them back in because supplies were running low, and he needed to keep his soldiers alive to defend the fortress. So many people were trapped outside for months between the French army camp and the chateau in the midst of winter. Some died, and some resorted to what many would consider immoral acts to stay alive.
My other books are set in 15th century England, and I have hundreds of research books on that era. Finding what I needed for MEML was challenging, though I did come across great resources such as an episode of the PBS show Battle Castle.
Another challenge was how to make a tragic event the backdrop for a romance. I condensed the progress of the siege and left out some of the more horrific elements. For example, since those left outside had so little food, some went to extremes to find sustenance. One source said dogs were eaten, others said something even worse: cannibalism.
I focused on the concept that something can come out of very difficult times. I hope readers enjoy Lady Aline de Lacy's and Sir Apollo de Norville's story.