Thank you for visiting.
I'd love to know what you think of my books! If you'd like to know when my next book will be available, whether I'm doing a giveaway or have significant news, please sign up for my newsletter via the box below, visit and/or subscribe to my blog for occasional updates, and/or follow me online.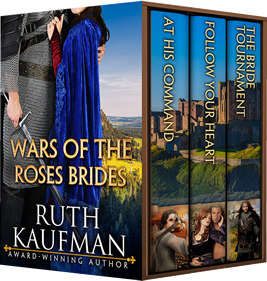 The Wars of the Roses Brides Trilogy
Ruth's first three books, At His Command, Follow Your Heart and The Better Bride, set against the backdrop of what we now call the Wars of the Roses.
Eat, Pray, Love meets La La Land. Available in print and e-book. The audiobook is on Amazon, Audible and iTunes. I voiced all of the female characters and Kevin Theis, who has narrated 160+ audiobooks (!) did the males.
The standalone sequel, My Life as a Star, is coming soon!

After an unexpected divorce, Marla Goldberg yearns to believe "someday is now" and pursue her dream of being a working actress in Chicago. But how can she quit her frustrating radio station account executive job when she's only booking work as an extra? Read more…